Skip to main content
It looks like you're using Internet Explorer 11 or older. This website works best with modern browsers such as the latest versions of Chrome, Firefox, Safari, and Edge. If you continue with this browser, you may see unexpected results.
Chemicals around us
Bill Moyers - Trade Secrets

A two-hour special report on how chemical companies have collaborated to keep from American workers and the American public the full truth about the impact of chemicals on health and safety.
Climate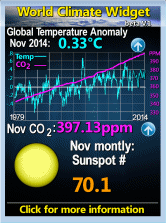 Six Degrees

by

Possibly the most graphic treatment of global warming that has yet been published, Six Degrees is what readers of Al Gore's best-selling An Inconvenient Truth or Ross Gelbspan's Boiling Point will turn to next. Written by the acclaimed author of High Tide, this highly relevant and compelling book uses accessible journalistic prose to distill what environmental scientists portend about the consequences of human pollution for the next hundred years. In 2001, the Intergovernmental Panel on Climate Change (IPCC) released a landmark report projecting average global surface temperatures to rise between 1.4 degrees and 5.8 degrees Celsius (roughly 2 to 10 degrees Fahrenheit) by the end of this century. Based on this forecast, author Mark Lynas outlines what to expect from a warming world, degree by degree. At 1 degree Celsius, most coral reefs and many mountain glaciers will be lost. A 3-degree rise would spell the collapse of the Amazon rainforest, disappearance of Greenland's ice sheet, and the creation of deserts across the Midwestern United States and southern Africa. A 6-degree increase would eliminate most life on Earth, including much of humanity. Based on authoritative scientific articles, the latest computer models, and information about past warm events in Earth history, Six Degrees promises to be an eye-opening warning that humanity will ignore at its peril.

Call Number: S\ 551.6 Lyn

ISBN: 1426203853

Publication Date: 2008-10-07
Global Warming's Terrifying New Math

Three simple numbers that add up to global catastrophe - and that make clear who the real enemy is

CO2Now.org

Global warming is mainly the result of CO2 levels rising in the Earth's atmosphere. Both atmospheric CO2 and climate change are accelerating. Climate scientists say we have years, not decades, to stabilize CO2 and other greenhouse gases.
To help the world succeed, CO2Now.org makes it easy to see the most current CO2 level and what it means. So, use this site and keep an eye on CO2. Invite others to do the same. Then we can do more to send CO2 in the right direction.
---
Need a login or password for a database or subscription service?  See Reference Sites under Learning Links on the UWCSEA website, which can be accessed directly via:  https://www.uwcsea.edu.sg/links   The same information is available via Google Docs:  http://bit.ly/accessuwc
  Search our library catalogs for books, ebooks, etc.
---
United World College of Southeast Asia (UWCSEA): Dover Campus: 1207 Dover Road, Singapore 139654 / East Campus: 1 Tampines Street 73, Singapore 528704