Skip to Main Content
It looks like you're using Internet Explorer 11 or older. This website works best with modern browsers such as the latest versions of Chrome, Firefox, Safari, and Edge. If you continue with this browser, you may see unexpected results.

Summary
Readers Get to Know our Characters By Pretending and Performing our Books
Reading
In our Library
SUBJECT: Readers Theatre

The books at this link have the subject heading "Readers Theatre". Follow the availability link to see where they are located. Teachers - If you log-in to Destiny you will see books in classrooms. Contact the library to collect the titles you want.
Readers Theatre
Click on the image to see the range on Reading A-Z
If you need the login details for Reading A-Z email the library from your UWCSEA account with this EXACT subject line
Please send me the login details for Reading A to Z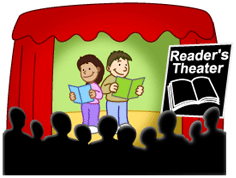 Wheelers eBooks - Click in the box below to see the book on the Wheelers shelf