Skip to main content
Wheelers eBooks - Click in the box below to see the book on the Wheelers shelf
Play Scripts
UNICORNS AND ALLEY CATS

A play for 2 actors
Dude: A city loving alley cat who receives an odd visitor one rainy night.

Tink: A unicorn that leaves her home in a world of untouched nature to experience the cities of men.

Note
The actors may take on the characteristics of the animals to add to the effect. Cat movements and manners, the graceful unicorn, etc.

Place and Time
An alley in the downtown of a large city in the present.

The Owl, The Bull and the Forest

Owl: An actor made up to be an owl whose home in a tree is disturbed by an unwelcome visitor.

Bull: An actor made up to be a bull who knocks down trees for a living so that he may earn food for his family.
Readers Theatre
Click on the image to see the range on Reading A-Z
If you need the login details for Reading A-Z email the library from your UWCSEA account with this EXACT subject line
Please send me the login details for Reading A to Z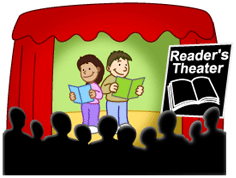 ---
Need a login or password for a database or subscription service?  See Reference Sites under Learning Links on the UWCSEA website, which can be accessed directly via:  https://www.uwcsea.edu.sg/links   The same information is available via Google Docs:  http://bit.ly/accessuwc
  Search our library catalogs for books, ebooks, etc.
---
United World College of Southeast Asia (UWCSEA): Dover Campus: 1207 Dover Road, Singapore 139654 / East Campus: 1 Tampines Street 73, Singapore 528704