Skip to main content
Summary
Readers Get to Know our Characters By Pretending and Performing our Books
Reading
In our Library
SUBJECT: Readers Theatre

The books at this link have the subject heading "Readers Theatre". Follow the availability link to see where they are located. Teachers - If you log-in to Destiny you will see books in classrooms. Contact the library to collect the titles you want.
Readers Theatre
Click on the image to see the range on Reading A-Z
If you need the login details for Reading A-Z email the library from your UWCSEA account with this EXACT subject line
Please send me the login details for Reading A to Z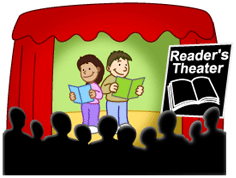 ---
Need a login or password for a database or subscription service?  See Reference Sites under Learning Links on the UWCSEA website, which can be accessed directly via:  https://www.uwcsea.edu.sg/links   The same information is available via Google Docs:  http://bit.ly/accessuwc
  Search our library catalogs for books, ebooks, etc.
---
United World College of Southeast Asia (UWCSEA): Dover Campus: 1207 Dover Road, Singapore 139654 / East Campus: 1 Tampines Street 73, Singapore 528704